Direct news input items

RSF condemns 'unnecessarily cruel' decision to keep Julian Assange detained
06 Jan 2021; posted by the editor - General, Human Rights, Journalism, International, United States, United Kingdom
In a 6 January hearing at London's Westminster Magistrates' Court, District Judge Vanessa Baraitser considered Julian Assange's application to be released on bail. She ruled against his release, stating that Assange had an "incentive to abscond," and "as a matter of fairness" she needed to give the US government the chance to pursue an appeal, which it has indicated it intends to do. Baraitser stated that Assange's mental health is being managed at Belmarsh prison, and that the prison has its Covid-19 situation under control.
---
Covid-19 and mass inoculation
28 Dec 2020; posted by the editor - Health, Opinion
What is deeply concerning about those expressing views that do not fully support the views of 'authorities' regarding the Covid-19 situation is not what they are saying, but that they are being prevented from saying it.
---
Julian Assange's extradition hearing marred by barriers to open justice
10 Oct 2020; posted by the editor - Human Rights, Journalism, International, United States, United Kingdom
By Reporters Without Borders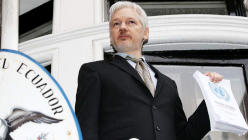 After monitoring four weeks of evidence in the US extradition proceedings against Wikileaks publisher Julian Assange, Reporters Without Borders (RSF) reiterates concern regarding the targeting of Assange for his contributions to journalism, and calls again for his release.
---
More from Ireland at www.thetruth.ie