Northern Ireland Apprenticeship Week- Call for Company Events
Manufacturing NI sits on the regional planning committee for Apprenticeship Week which will be held on 6th-10th February 2023. We would like to encourage manufacturers to hosts events or activities to coincide with this week. Some examples include;
* Social media activity highlighting the role of apprenticeships in the organisation w/ role models
* Student competitions
* Job sampling / apprenticeship talks / job fairs
* School site visits / open days
* Meet the parents Q&A
Click here for the 2023 proforma (https://www.manufacturingni.org/wp-content/uploads/2022/11/Blank-Proforma-NIAW-2023-inc.-feedback.docx?mc_cid=7b80d524b5&mc_eid=UNIQID) . Detailed within this form you will see that it will need you to return it to The Department of Economy by COB on Friday 2nd December 2022 at the latest. Your public facing event details will then be listed on NIDirect in preparation for the Department's Press Release which will launch the NIAW.
------------------------------------------------------------
Search begins for new board members for the Labour Relations Agency
The Department for the Economy (DfE) has launched a public appointment competition to recruit four new board members to the board of the Labour Relations Agency (LRA).
The LRA is a non-departmental public body with responsibility for promoting the improvement of employment relations in Northern Ireland. The LRA contributes to organisational effectiveness by providing impartial and independent services for promoting good employment practices and preventing and resolving disputes.
The Department wishes to appeal to people of all ages from a wide range of backgrounds and experience across the community, voluntary, business or public sector, who can bring a wide range of skills and experience to the role. DfE would particularly welcome applications from females, people with a disability, those from minority ethnic communities and young people, as they are currently under-represented on the board. The Department is operating a Guaranteed Interview Scheme in this competition for applicants with a disability.
This competition will be of particular interest to people who wish to develop their skills as part of a board and are willing to learn. Previous experience of serving on a board is not necessary as new appointees will undergo an induction programme, as well as being offered peer support.
The rate of remuneration for the LRA board members is £5,643 per annum, for which they will be required to attend the monthly board meeting and undertake other occasional duties on behalf of the LRA. The board members can claim reasonable travel and subsistence costs while undertaking board duties.For further information or to receive an application pack visit: https://www.economy-ni.gov.uk/lra-members?mc_cid=7b80d524b5&mc_eid=UNIQID
This is an open competition which involves a simple application form and interview. The closing date for receipt of applications is 12 noon (GMT) on 24 November 2022
https://www.manufacturingni.org/invest-ni-launch-ambition-to-grow-programme/?mc_cid=7b80d524b5&mc_eid=UNIQID
------------------------------------------------------------
Ambition to Grow
Ambition to Grow is Invest NI's exciting new regionally focused competition aimed at innovative, ambitious businesses is now open for applications.
40 spaces are available and successful applicants will be eligible to apply for funding up to a maximum of £45,000, broken down as follows:
* £5,000 per new job (a minimum of three) created over and above existing employment levels within the business (to a maximum of £30,000).
* £10,000 towards business development activities, where the amount of support provided shall be no more than 50% of the cost eligible activities listed in the application.
* £5,000 on the completion of an export health check and development of an export plan, to the satisfaction of Invest NI.
This initiative has been designed with businesses which are not currently Invest NI client managed customers in mind, and it is anticipated to be extremely beneficial to businesses throughout Northern Ireland.
For more information on the competition please visit the Ambition to Grow webpage (https://www.investni.com/support-for-business/ambition-to-grow?mc_cid=7b80d524b5&mc_eid=UNIQID) .
Closing date for applications is 12 noon on Friday 25 November 2022.
https://www.economy-ni.gov.uk/apprenticeawards2023?mc_cid=256636b6f3&mc_eid=UNIQID&mc_cid=7b80d524b5&mc_eid=UNIQID
------------------------------------------------------------
NI Apprenticeship Awards 2023 Launched
Nominations are now being sought for the prestigious NIAA2023.
The NIAA2023 will recognise and showcase excellence and best practice in the participation and delivery of Apprenticeships. Finalists will be selected and invited to a special awards ceremony on Wednesday 29th March 2023.
These awards honour:
* Valued Apprentices who are making a significant contribution to their workplace and have shown a dedication to excel in their professional development and learning;
* Influential partnerships between Employers and Training Providers that support the continuous growth of skills development in Northern Ireland; and,
* For the first year, Mentors who provide an outstanding contribution to the Apprenticeship programmes.
Applications are now open for five award categories:
* Apprentice Award (Levels 2-3);
* Higher Level Apprentice Award (Level 4+);
* Large Employer in partnership with a Training Provider Award (employers with more than 250 employees);
* Small to Medium-sized Enterprise in partnership with a Training Provider Award (employers with less than 250 employees); and,
* Outstanding Mentor Award.
All nominees for the Apprentice and Higher Level Apprentice Awards must have been on the ApprenticeshipsNI or Higher Level Apprenticeship Programme in 2022.
Completed nomination forms must be returned before 12:00 noon on Friday 18th November 2022 to: niaa.2023@economy-ni.gov.uk (mailto:niaa.2023@economy-ni.gov.uk)
Full details on application criteria for each of the awards, and how to apply, are available on the Department's website at:
https://www.economy-ni.gov.uk/apprenticeshipawards2023?mc_cid=7b80d524b5&mc_eid=UNIQID
(https://www.economy-ni.gov.uk/apprenticeshipawards2023?mc_cid=256636b6f3&mc_eid=UNIQID&mc_cid=7b80d524b5&mc_eid=UNIQID)
https://www.tickettailor.com/events/londonderrychamberofcommerce/786714/?mc_cid=7b80d524b5&mc_eid=UNIQID
------------------------------------------------------------
2022 North West Annual Future of Energy Conference
Thursday 17th November
Everglades Hotel, Derry
This full day conference is jointly hosted by the Chambers of Commerce in Londonderry and Letterkenny, kindly supported by the North West Regional Development Group, and will focus on the opportunities for investment, growth, innovation and job creation and also address the challenges to businesses of rising energy costs.
This event aims to
* Encourage cross border collaboration in the energy sector to the benefit of the whole North West city region
* Provide a platform for knowledge transfer and sharing to support economic growth of the North West region
* Support business growth and innovation in the energy sector
* Support NW businesses to meet sustainability goals in the move to net zero
BUY TICKETS HERE
(https://www.tickettailor.com/events/londonderrychamberofcommerce/786714/?mc_cid=7b80d524b5&mc_eid=UNIQID)Direct
---
news input items
More from Ireland at www.thetruth.ie
At Least 32% of U.S. Mass Shooters Trained to Shoot by U.S. Military
10 May 2023; posted by the editor - General, Features, International, United States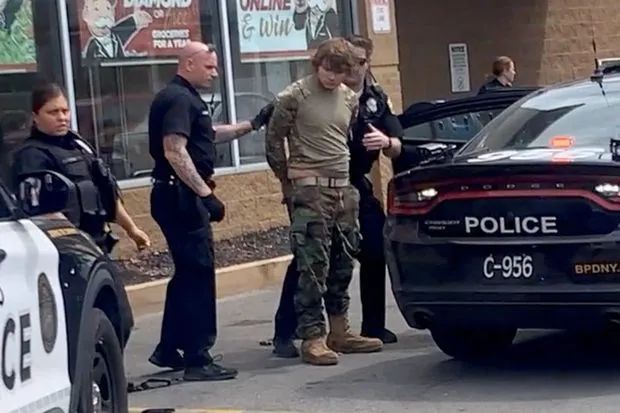 By David Swanson
It's been two years since I wrote on this topic. At that time, at least 36% of U.S. mass shooters had been trained by the U.S. military. Since then, a grand total of nobody at all has written on the topic.


---
Advanced Poll
What should happen with Northern Ireland?
More polls