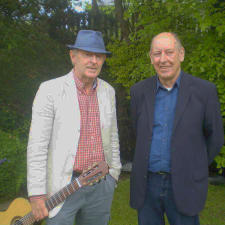 Mike and Austin Durack are the guest performers at Limerick City's White House Poets open mic night at the White House Bar in O'Connell Street on Wed 11 May.
Mike and Austin Durack grew up on a farm near Birdhill in County Tipperary. They have been collaborating on a programme of poetry and music for the past four years and they have produced two albums, 'The Secret Chord' (2013) and 'Going Gone' (2015).
After a career as a singer and songwriter, Austin has been concentrating in recent years on guitar, playing his own compositions and arrangements of popular classics. His recent instrumental albums, A Guitar Journey (2008), Drops of Jazz (2012) and Fingerpicker (2014) have generated plenty of air play on radio programmes such as Late Date, In The Blue Of The Night and The John Creedon Show. He has appeared on The Late Late Show, Nighthawks and several times on TG4.
Mike was a founder member of Killaloe Writers Group. His poems have been published in various literary journals including InCognito, Flaming Arrows, The Burning Bush, The Cafe Review, The Stony Thursday Book and Poetry Ireland Review, and have been broadcast on local and national radio. He is the author of a chapbook, 'Nothing To Write Home About', and 'A Hairy Tale of Clare', a comic narrative in verse. 'Saved to Memory: Lost to View', his memoir in prose and poems, published by The Limerick Writers' Centre, was launched in March of this year.
The open mic starts at 9pm.
http://www.facebook.com/WhiteHouseLimerickPoetry