THE SPAMBUSTERS
David Harris produces 'White Paper' on spam—a definitive overview
How e-mail could be . . .
HELP NEEDED

Appeal for help in keeping Pegasus Mail and Mercury free programs
LATEST UPGRADES AVAILABLE FROM:
http://risc.ua.edu/pegasus
ftp://ftp.maine.edu/pegasus
ftp://pegasus.topnz.ac.nz/pegasus
A word from designer/owner David Harris



Pegasus Mail v4.7 is now available from the official download sites.
Please go to -
http://www.pmail.com/downloads.htm
for the site nearest you.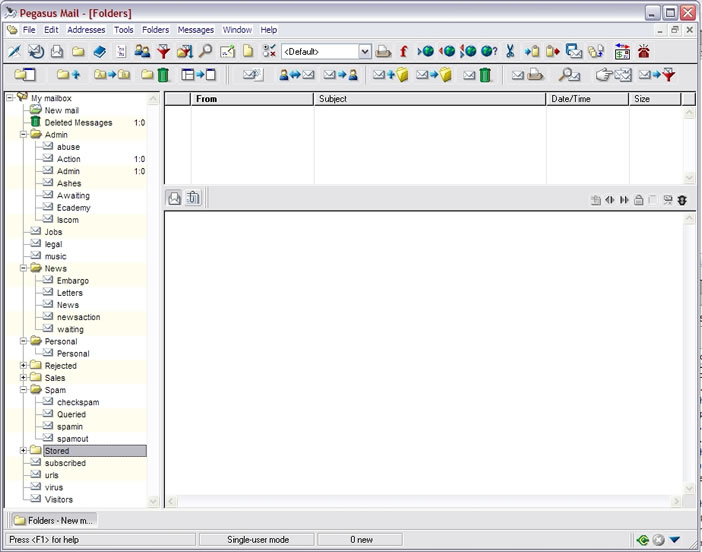 SPAM CONTROL
Version 4.41 incorporates a completely redesigned and new anti-spam system that includes Spamhalter, a Bayesian spam indentifier that works with a global whitelist. Further info is available from the Pegasus Mail website and is of course included in the help file that comes with the programme download.

Using the POP3 rule set and/or the content control will increase the time it takes to download mail. The content control works locally, but if you access more than one POP3 address, or have set the programme to send mail after downloading, the content control system must work through and complete each incoming mail before moving on to the next process. High volume of incoming mail and a lengthy content control list will of course add to overall download time.

For similar reasons it is worth paying particular attention to which POP3 rules you intend to use and they should ideally be kept as simple as possible.

With practice, it is possible to work out complex filtering by use of a simple forumula. For instance, creating a rule to add senders' addresses to a check address (distribution) list if they are not on either a black or white list, and then adding that list to the blacklist or whitelist can work, providing you remember to examine the check list as its content will be acted upon on the next download!

An example rule set might be:
If ListScan "@WHITELIST.PML" Download ""
If ListScan "@BLACKLIST.PML" DeleteOnServer ""
If not ListScan "@WHITELIST.PML" Call "check"
If not ListScan "@BLACKLIST.PML" Call "check"
Label "check"
Always AddToList "C:\\PMAIL\\CHECKLIST.PML"
Always Exit ""

Overview of Pegasus Mail
http://www.pmail.com/overviews/ovw_winpmail.htm

Get a customised Pegasus toolbar here
ENDNOTE
David Harris and the editor of this web site Keith Harris are not known to be related other than as members of the world wide Harris clan.


news resources
Afghanistan | Africa | Albania | Algeria | Andorra | Angola | Anguilla | Antigua | Argentina | Armenia | Aruba | Asia | Australia | Austria | Azerbaijan | Bahamas | Bahrain | Balkans | Bangladesh | Barbados | Belarus | Belgium | Belize | Benin | Bermuda | Bhutan | Bosnia | Bolivia | Botswana | Brazil | Brunei | Bulgaria | Burkina | Burma | Burundi | Cambodia | Cameroon | Canada | Cape Verde | Caribbean | Cayman Islands | Cen African Rep | Chad | Chile | China | Christmas Island | Columbia | Comoros | Congo | Cook Island | Costa Rica | Croatia | Cuba | Cyprus | Czech/Slovakia | Denmark | Djibouti | Dominican Republic | Dubai | East Timor | Ecuador | Egypt | El Salvador | Equatorial Guinea | Eritrea | Estonia | Ethiopia | Europe | Faroe Islands | Fiji | Finland | France | Gabon | Gambia | Georgia | Germany | Ghana | Greece | Greenland | Grenada | Guadeloupe | Guam | Guatemala | Guinea | Guyana | Haiti | Holland | Honduras | Hong Kong | Hungary | Iceland | India | Indonesia | Iran | Iraq | Ireland | Israel | Italy | Ivory Coast | Jamaica | Japan | Jordan | Kazakhstan | Kenya | Kiribati | Korea | Kuwait | Kyrgyzstan | Laos | Latvia | Lebanon | Lesotho | Liberia | Libya | Lietchtenstein | Lithuania | London | Luxembourg | Macau | Macedonia | Madagascar | Malawi | Malaysia | Maldives | Mali | Malta | Marshall Islands | Martinique | Mauritania | Mauritius | Mexico | Micronesia | Moldova | Monaco | Mongolia | Montenegro | Montserrat | Morocco | Mozambique | Namibia | Nauru | New Zealand | Nicaragua | Niue | Niger | Nigeria | Northern Ireland | Norway | Oman | Pakistan | Palau | Palestine | Panama | Paraguay | Peru | Philippines | Pitcairn Islands | Poland | Portugal | Qatar | Romania | Russia | Rwanda | Samoa | San Marino | Sao Tomé | Saudi Arabia | Scandinavia | Senegal | Serbia | Seychelles | Sierra Leone | Singapore | Slovakia | Slovenia | Solomon Islands | Somalia | South Africa | South Americas | Spain | Sri Lanka | St Kitts | St Lucia | St Pierre | St Vincent | Sudan | Suriname | Swaziliand | Sweden | Switzerland | Syria | Taiwan | Tajikistan | Tanzania | Thailand | Tibet | Togo | Tonga | Trinidad | Tunisia | Turkey | Turkmenistan | Turks & Caicos | Tuvalu | Uganda | Ukraine | United Kingdom | United States | Uruguay | Uzbekistan | Vanuatu | Venezuela | Vietnam | Virgin Islands | Walli & Futuna | Yemen | Zambia | Zimbabwe | World
Human Rights | Science | Journalism | Music | Showbiz | Sport | Technology
Clickable News Globe
---
Top | Privacy | Forum | Comment

MP3 Sounds | Links | Publicity | Contact
On-line Editing | Publish news | Guestbook | Site Status | Site Map


Seed Newsvine
© Newsmedianews—