OMG, War Is Kind of Horrible
printable version
14 Mar 2022: posted by the editor - Features, International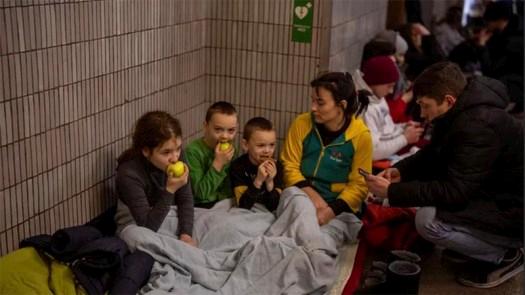 For decades, the U.S. public seemed largely indifferent to most of the horrible suffering of war. The corporate media outlets mostly avoided it, made war look like a video game, occasionally mentioned suffering U.S. troops, and once in a blue moon touched on the deaths of a handful of local civilians as if their killing were some sort of aberration.
The U.S. public funded and either cheered for or tolerated years and years of bloody wars, and came out managing to believe falsely that a large percentage of war deaths are of troops, that a large percentage of war deaths in U.S. wars are U.S. troops, that wars happen in a mysterious place called a "battlefield," and that with rare exceptions the people killed by U.S. troops are people who need killing exactly like those given death sentences in U.S. courts (except for the ones later exonerated).
For decades, wise and strategic peace advocates counseled against bothering to mention the millions of men, women, and children slaughtered, wounded, made homeless, terrified, traumatized, poisoned, or starved by U.S. wars. Nobody would care about them, we were told, so mentioning them wouldn't actually help them. It would be smarter to mention only U.S. troops, even if it perpetuated the false belief that the wars were not one-sided genocidal slaughters. It would be even smarter, we were told, to focus on the financial costs of the wars, even though the U.S. government simply invents how ever much money it wants for more wars. Money, we were told, is something that people can care about.
Of course, the obvious problem wasn't what we talked about, but that we weren't allowed on television. Of course, the average U.S. resident is not a heartless sociopath. Of course, people care all the time about distant and different human beings. When hurricane victims are presented in the media as worthy, people donate. When a famine is blamed on nature, the money gushes forth. When cancer is depicted as arising from a pristine, unsullied environment, I just dare you to find a neighborhood that won't run a marathon to cure it. So, in theory, I always believed that people in the United States could in fact care about war victims. Just as they could declare "We Are All French" when a bomb went off in France, they could in theory declare "We Are All Yemeni" when the U.S. and Saudi militaries terrorize Yemeni children, or announce "We Are All Afghans" when Joe Biden steals billions of dollars needed for basic survival.
You'll have spotted the actual problem, of course. There's no such thing as being terrorized by the U.S. military or a U.S. president stealing from foreigners. Just about nobody, in fact, even knows what colors the Yemeni flag is - much less have they pasted them up everywhere. In the U.S. media those things do not exist. But caring about war victims does exist. I distinctly remember how much people cared about fictional infants removed from incubators to get the first gulf war going, or the impact had by videos of individual victims of ISIS. "Rwanda" was a nonsensical argument for a war on Libya precisely because people are understood to care about war victims when needed to. Syrians have been worthy war victims when the wrong side has been falsely accused of using the wrong kind of weapon. Caring about war victims was always a possibility, and now it has burst forth onto central stage. We now see, directed toward Ukrainians, the concern and empathy that were always possible for little children and grandmothers murdered by war in Iraq or dozens of other countries.
For those of us whose opposition to war was always principally driven by concern for its direct victims - augmented by concern for the victims of diverting so many resources into war instead of into useful things - this is an opportunity to speak honestly. Speaking honestly is always more persuasive than speaking manipulatively. Unless you've decided to cheer for Russian mass-murder, here is a chance to say to the media-consuming public: YES! YES! We are with you! War is horrendous! War is immoral! There is nothing worse than war! We must abolish this barbarism! We must abolish it no matter who does it or why. And we'll only do that if we learn the power of nonviolent action to resist it.
Millions of Russians and non-Russians believe that Russia is acting defensively and that whatever it does is justified. Millions of Ukrainians and non-Ukrainians believe that whatever it does is defensive and justified. The arguments are wildly different, and we need not dignify the idiocy of objecting to equating them. There is nothing equal or even measurable about human actions. But Russia had nonviolent alternatives to resist NATO expansion and chose violence. Ukraine had nonviolent alternatives to resist Russian invasion, and U.S. televisions are not telling us to what extent Ukrainians have in fact chosen, with little support or organization, to attempt them.
If we all survive this crisis, the one lesson we need to take away from it is that human beings live under those fantastic streaks of light that television talking heads ooh and aah over. And if those human beings don't seem to matter much, we can just try thinking of them as if they were Ukrainians. Then we can work on comprehending that the enemy is not the people in whose names the bombs fall. The enemy is war.
>Local comment


Name:
Remember me
E-mail:
(optional)
Captcha
March 7, 2004
NOD32 Antivirus
'NEW GENERATION' ANTIVIRUS SOFTWARE BLOCKS MOST VIRUSES, WITHOUT UPDATES
Netsky, Bagle, MyDoom, Hiton, Sobig, Nimda, Swen etc. no threat to NOD32 users
NOD32's new 'next generation' antivirus software has detected > 80% of all new in-the-wild viruses in the last six months without needing specific signature updates, and without 'false-alarms'.
In this era of fast infecting, mass-emailing viruses, any delay in providing protection can have a huge impact on virus spread. NOD32's performance in stopping most viruses without any need for a signature update is highly significant.
'While most antivirus makers were scrambling to create signature updates NOD32 users were already protected even before anyone knew what these infections were.' commented Kirk Parker, NOD32 Corporate's Technical Manager.
'Many antivirus products use a combination of signature and heuristic detection methods, but few give much attention to the heuristic side,' commented Richard Marko, NOD32's head of Strategic Development.
NOD32 antivirus is the exception, with new, world-leading technology in both signature and heuristic detection. NOD32 was able to block these latest infected messages using its 'Advanced Heuristics', detecting more than 80% of new 'in-the-wild' viruses without a signature update. Viruses pre-detected by NOD32's heuristics include LoveLetter, Marburg,
Badtrans, Swen, Bugbear, Sobig, Kournikova, Lovsan, Lablan, Mapson, Sobig Mimail, Klez, Sircam, Nimda, Bagle and Netsky. Signature updates are released as often as needed.
NOD32 has been awarded more VB100% awards (by Virus Bulletin Magazine UK) than any other antivirus product, and actually has not missed a single 'in-the-wild' virus in over 5 years of testing by Virus Bulletin Magazine.
For more information see www.nod32.ie www.nod32.ie
First To Receive Checkmark Antivirus Certification Levels 1, 2 And Trojan For Windows 2003
San Diego, CA - September 2, 2003
NOD32 is a user-friendly, fully configurable anti-virus software package suitable for single user stand-alone use or for network environments and systems managers. It is particularly well tailored towards network systems protection.
It has all the programmable features you'd expect of good anti-virus software and Eset Software provide an interactive and automated virus database download upgrade service so your virus definitions can be always up to date.
The program incorporates a wide range of protection levels and the software has gained many acclimas for detecting previously unknown viruses in the wild.
The manufacturers say the following:
Eset Software, a leading provider of Internet software security solutions, announced today that its NOD32 Antivirus software has become the first product for the Windows 2003 operating system to receive prestigious Checkmark certification at Levels 1, 2 and Trojan, from SC Magazine's West Coast Labs.
"The Checkmark certification of NOD32 for Windows 2003 to AV [Anti-Virus] Levels 1,2 and Trojan, is the hallmark of a company whose philosophy is to be a cutting-edge AV developer," commented Chris Thomas, Operations Director of West Coast Labs, in a statement announcing the results.
"West Coast Labs' certification process represents the true test of an antivirus product's capability to detect viruses, worms, and Trojans. Eset is pleased to provide its growing client base even further proof of the top detection qualities of NOD32 Antivirus on the Windows 2003 platform," commented Miroslav Trnka, Eset's Chief Technology Officer. Unprecedented Virus Detection NOD32 Checkmark certification comes just after the product received its record 23rd Virus Bulletin VB100% Awards granted by Virus Bulletin, the "Antivirus Industry Bible". Analysts have confirmed the company's claim of having the only product to never miss an 'In the Wild' (ItW) virus during its Virus Bulletin testing since May 1998.
The developers say that NOD32 Antivirus' effectiveness is due to its unique core technology that addresses both known and unknown viruses. NOD32 Antivirus, by way of its advanced heuristic technology, provides state-of-the-art protection against both ItW and unidentified viruses. Heuristics enables NOD32 Antivirus to detect virus-like activity, thereby automatically initiating action to isolate the potentially infected files without false alarms. NOD32 Antivirus' remarkable detection rate enables it to do its job without impacting system performance-a major concern for many users. NOD32 Antivirus' throughput rate-more than twice the speed of the next best product on the market-also provides the fastest possible detection with minimal impact on system performance. Eset Software's NOD32 Antivirus Version 2.0 is available for Windows 95/98/ME/NT/2000/XP/2003, MS-DOS, Unix, and Novell.
For more information about NOD32 Antivirus contact Richard Foley at +353-51-841051 or info@nod32.ieor visit our website at www.nod32.ie
Notes on NOD32 for Pegasus Mail users
About ESET: Eset is a privately held software development and research company with offices in San Diego, London, Prague, and Bratislava. Founded in 1992, Eset has focused on developing innovative antivirus software systems. NOD32 Antivirus has evolved from that development process to be consistently rated as one of the best antivirus products. In fact, NOD32 Antivirus holds more Virus Bulletin 100% Awards than any other product available, and is now the only product to be certified at Checkmark Antivirus Levels 1, 2, and Trojan on the Windows 2003 platform. About Checkmark: The Checkmark provides a clear and unambiguous indication of attainment of a relevant standard for users of computer security solutions. The Checkmark standard is a real-world, industry accepted test. Users can very easily tell if a product possesses a Checkmark certification by ensuring that the Checkmark logo appears on the product package, by contacting West Coast Labs, or by visiting the Checkmark web site, www.check-mark.com http://www.check-mark.com.
Outpost Firewall Pro Available in Republic of Ireland
[Windows 98/Me/NT4/2000/XP only]
News Agnitum, the home of Outpost Personal Firewall Pro and Tauscan-Windows security applications for business and home use-has signed a distribution agreement with Reflex to market Agnitum's Outpost Firewall Pro in the Republic of Ireland and the United Kingdom. Outpost will be customized for the local market, and sold in an online store at www.outpost.uk.com
Reflex will also provide technical support for customers.
"After investigating several competing products we decided on Agnitum Outpost Firewall Pro because of its versatility and reliability. It is a feature-rich product and offers an excellent line of defence towards PC security," said Richard Foley, Reflex's Managing Director. Outpost Firewall Pro is a powerful, full-featured firewall for Windows that is designed for families and businesses of all sizes. Outpost Firewall Pro gives peace of mind from any threats by cookies, banner ads, e-mail viruses, backdoors, spyware, hackers, adware and virtually every other Internet danger. Unlike other personal firewalls, Outpost starts protecting against internal and external attacks as soon as it's installed. This is the first firewall with an open architecture and support for plug-ins, so its capabilities can easily be extended by thousands of developers worldwide. Outpost Firewall Pro protects your system from worm and virus attacks that arrive by e-mail. You can filter e-mails based upon their content, and Outpost will prevent dangerous attachments from executing. Outpost performs web filtering, allowing parents, educators and businesses to exercise control over the content that is allowed to reach each computer. Outpost offers a privacy guard feature as well as a plug-in that will block banner advertisements from your web pages. When processing packets, the program offers complete flexibility for power users who want to fine-tune their firewall protection. You can use Outpost's wizard to develop custom rules for dealing with all packets. Application authentication (MD5), ICS support, Trusted IP group and ICMP rules can all be controlled. Less experienced users can simply use the predefined system and application settings for all common tasks such as browsing the Web, allowing ICQ and allowing DNS and DHCP. There is even an easy NetBIOS rule-creation process for working with home and office networks. Users can get free updates to Outpost automatically, using the program's built-in update utility. Outpost's interface is multi-language, configurable for each user and its settings can be password protected. Inexperienced users will appreciate the ease of installation and ability to simply set Outpost's protection features. Power users will appreciate that Outpost resides on the lowest possible level of the operating system, allowing it to filter RAW-SOCKET and direct packet sending into the drivers, bypassing the TCP/IP stack. Outpost runs under Windows 98/Me/NT4/2000/XP, and a free version is available for home, business and educational use. You can download a copy from the Outpost web site at
http://www.outpost.uk.com

For more information, contact Outpost at
info@outpost.uk.com
.
About Agnitum
Since 1999, Agnitum has been developing and marketing Windows security applications for business and home use. In addition to Outpost, Agnitum also offers Jammer and Tauscan. Jammer is a multi-barrier protection complex design for novice users. Jammer investigates incoming and outgoing Internet traffic, monitors applications, and protects the Windows registry. Tauscan is a powerful Trojan virus detection and removal application -
www.agnitum.com
About Reflex
Reflex was founded in 1992 and specializes in IT security solutions. The company distributes award winning NOD32 anti-Virus, Adhaero Access Control software and specializes in IT security solutions including SurfControl WEB & Email filtering, RSA, Veritas, Symantec, Nokia, CheckPoint & Citrix -
www.reflex.ie
About Outpost
Firewall Agnitum Outpost Firewall Pro is the most feature-packed personal firewall for Windows, a fact that is proven by many independent reviews and millions of users around the world. Outpost provides a superior arsenal of defense against all kinds of PC infiltration. Outpost Firewall Pro is the only product of its breed to implement plug-in technology, which allows third party developers to further extend Outpost's functionality.
Norton 2001 - anti-virus programme.
If you are using Windows 2000 you can download trial use of the Norton Anti-virus programme from http://www.symantec.com
Norton Internet Security 2001 is still avaliable on the net as a full download package but adjustments will need to be made to your system to install.
top
AceHTML Editor
A freeware HTML editor that commands the respect of
a professional Web development tool. AceHTML Freeware is
among the leading free HTML editors on the market today.


top


news resources
Afghanistan | Africa | Albania | Algeria | Andorra | Angola | Anguilla | Antigua | Argentina | Armenia | Aruba | Asia | Australia | Austria | Azerbaijan | Bahamas | Bahrain | Balkans | Bangladesh | Barbados | Belarus | Belgium | Belize | Benin | Bermuda | Bhutan | Bosnia | Bolivia | Botswana | Brazil | Brunei | Bulgaria | Burkina | Burma | Burundi | Cambodia | Cameroon | Canada | Cape Verde | Caribbean | Cayman Islands | Cen African Rep | Chad | Chile | China | Christmas Island | Columbia | Comoros | Congo | Cook Island | Costa Rica | Croatia | Cuba | Cyprus | Czech/Slovakia | Denmark | Djibouti | Dominican Republic | Dubai | East Timor | Ecuador | Egypt | El Salvador | Equatorial Guinea | Eritrea | Estonia | Ethiopia | Europe | Faroe Islands | Fiji | Finland | France | Gabon | Gambia | Georgia | Germany | Ghana | Greece | Greenland | Grenada | Guadeloupe | Guam | Guatemala | Guinea | Guyana | Haiti | Holland | Honduras | Hong Kong | Hungary | Iceland | India | Indonesia | Iran | Iraq | Ireland | Israel | Italy | Ivory Coast | Jamaica | Japan | Jordan | Kazakhstan | Kenya | Kiribati | Korea | Kuwait | Kyrgyzstan | Laos | Latvia | Lebanon | Lesotho | Liberia | Libya | Lietchtenstein | Lithuania | London | Luxembourg | Macau | Macedonia | Madagascar | Malawi | Malaysia | Maldives | Mali | Malta | Marshall Islands | Martinique | Mauritania | Mauritius | Mexico | Micronesia | Moldova | Monaco | Mongolia | Montenegro | Montserrat | Morocco | Mozambique | Namibia | Nauru | New Zealand | Nicaragua | Niue | Niger | Nigeria | Northern Ireland | Norway | Oman | Pakistan | Palau | Palestine | Panama | Paraguay | Peru | Philippines | Pitcairn Islands | Poland | Portugal | Qatar | Romania | Russia | Rwanda | Samoa | San Marino | Sao Tomé | Saudi Arabia | Scandinavia | Senegal | Serbia | Seychelles | Sierra Leone | Singapore | Slovakia | Slovenia | Solomon Islands | Somalia | South Africa | South Americas | Spain | Sri Lanka | St Kitts | St Lucia | St Pierre | St Vincent | Sudan | Suriname | Swaziliand | Sweden | Switzerland | Syria | Taiwan | Tajikistan | Tanzania | Thailand | Tibet | Togo | Tonga | Trinidad | Tunisia | Turkey | Turkmenistan | Turks & Caicos | Tuvalu | Uganda | Ukraine | United Kingdom | United States | Uruguay | Uzbekistan | Vanuatu | Venezuela | Vietnam | Virgin Islands | Walli & Futuna | Yemen | Zambia | Zimbabwe | World
Human Rights | Science | Journalism | Music | Showbiz | Sport | Technology
Clickable News Globe

---

Top | Privacy | Forum | Comment MP3 Sounds | Links | Publicity | Contact
On-line Editing | Publish news | Guestbook | Site Status | Site Map
Seed Newsvine
© Newsmedianews—